When it comes to bathtub, tile, fiberglass & countertop resurfacing in Central Indiana*, call the experts at Indiana Resurfacing today for a FREE estimate!
With our high-tech performance coatings and products we can repair and resurface almost any porcelain bathtub, fiberglass bathtub, ceramic tile, cultured marble surface, or laminate countertop. We offer professional Indianapolis bathtub repair and resurfacing services. It is so durable, it can add more than 10-15 years of useful service life to your bathtub or ceramic tile surround. Our bathtub process finishes are such high-quality coatings that most people can't tell the difference between a refinished bathtub in Brownsburg and a brand new bathtub in Broad Ripple. We take your existing bathtub and resurface it with a sparkling near factory-new finish that is easy to clean and is guaranteed to last for many years.
Bathtub Reglazing and Resurfacing
We offer reglazing, resurfacing and Indianapolis bathtub repair. Bathtub resurfacing and tub reglazing in Indianapolis involves replenishing an old or damaged bathtub so that it looks brand new. The process consists of making repairs to damaged parts and applying a primer in addition to a top coat. It is also known as re-enameling, but actual porcelain enamel is not used on the tub. Indianapolis bathtub repair and refinishing is a specialized process that is often too challenging as a DIY endeavor, so it should be done by a professional. The process only takes a few hours, but the condition of the surface determines the length of time required and the results.
Bathtub reglazing is a safe, efficient and non-intrusive procedure that homeowners can do without starting huge messes or disturbing residents. The work does not require a great deal of cleaning and maintenance, as well. There are different types of coatings that can be used for the finish. In regards to remodeling and renovating a room, many people do not know that certain parts can be upgraded and reused rather than replaced. Many techniques can be used to make a worn tub or shower enclosure look brand new.
Bathtub resurfacing techniques have been used for a long time. The idea of refinishing certain areas of a room has been around for decades. Making an entire replacement is expensive, of course. Taking out an entire appliance or system causes damage to walls and floors. Additionally, the work of plumbers is usually involved so that a new appliance can be installed.
A wide range of other tasks can easily increase the costs. Replacement expenses could vary from a few up to many thousands of dollars. Bathtub resurfacing is a much simpler, less expensive, and less intrusive process.
Bathtub reglazing gives a full makeover that lasts for years, even with the best care and maintenance. Due to modern technology, we are able to resurface a bathtub in a few hours and it can be used 24 hours later. Proven professionals are the best ones who are qualified to complete tub reglazing in Indianapolis.
Fiberglass Bathtub Refinishing in Indianapolis and Surrounding Areas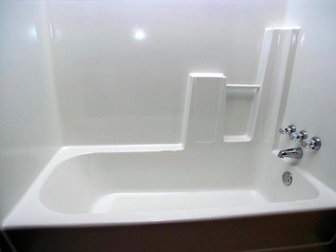 Fiberglass bathtubs present unique challenges, making it difficult for consumers to find a company that will undertake fiberglass tub refinishing. Some Indianapolis bathtub refinishers do not offer services for fiberglass bathtub refinishing in Indianapolis. Indiana Resurfacing offers refinishing solutions for virtually every type of bathtub, including fiberglass models, with services for fiberglass tub refinishing in Fishers and Indianapolis.
Finishes applied by Indiana Resurfacing are tough, durable and smooth, with a surface that is resistant to dirt, mold and mildew. No heavy scrubbing or scouring is usually necessary to the keep the tub clean. A mild detergent or cleanser such as Lysol tub and tile cleaner or Sbrubbing bubbles is all that is needed to keep the bathtub sparkling clean. Replacing a bathtub is time-consuming, disruptive and expensive. Plastic tub liners are visually unappealing and can cause water damage in the bathroom. For long-lasting beauty and durability at an affordable price, Indiana Resurfacing offers the optimum solution for fiberglass bathtub refinishing in Indianapolis.
Resurfacing or refinishing a countertop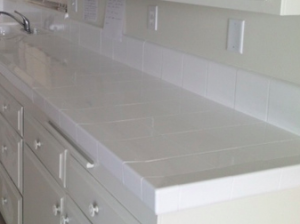 is one of the most effective solutions for bathroom and kitchen owners who want to transform their decor. You have found a service that specializes in countertop resurfacing. This method brings a new look to the room and helps people save money so they do not have to replace the entire surface. Kitchen owners who use a countertops resurfacing expert do not have to turn their life upside-down for weeks just because they want a new look.
People can easily refinish countertops to promote new, modern looks with or without decorative edging. Countertop resurfacing does not require having to take apart the kitchen area completely and cause major disruptions to the house. A project does not require weeks or months to complete. The work gives people the opportunity to enjoy a newly designed room in less time than expected.
Some materials can be resurfaced in a DIY project, but for the best look and highest quality surface, consult Indiana Resurfacing, your Indianapolis countertop professional. Instead of putting in a brand-new counter, refinishing countertops installs a new countertop over your old one. The process refreshes the look of a countertop while keeping the same structure. After installing new countertops, you will want to update the rest of your kitchen!
A countertop refinishing can also increase the value of property. People who plan to sell their homes should think of updating the most commonly viewed room when it comes to a home purchase. The financial and aesthetic value of the property is immediately increased. A potential buyer who sees an appealing kitchen is more likely to make an offer. If selling a house is necessary, all homeowners who refinish countertops in Indianapolis will benefit from the value included in an affordable and efficient makeover.
A great deal of countertop materials last for a long time, but many people consider making a replacement whenever they see something wrong with a countertop. Refinishing countertops fixes this problem without straining the budget. Give Indiana Resurfacing a call today!
*We may service your area for a trip charge. We service all of Indianapolis and the Metro Area. We also service central Indiana for a modest travel charge.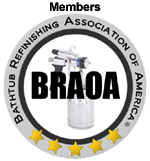 [email protected]
Feel free to send pictures of your project and we can call or email you a pricing quote.
We may service your area for a trip charge. We service all of Indianapolis and the Metro Area. We also service central Indiana for a modest travel charge.