When it comes to Indianapolis bathtub resurfacing, tile, fiberglass & countertop resurfacing in Central Indiana*, call Indiana Resurfacing for a FREE estimate!
Indiana Resurfacing specializes in countertop resurfacing. Call to learn more about the state-of-the-art composite surfaces for kitchen countertops.
We have over 10 years of experience specializing in converting bathtubs for easy access. We create access in the front of any existing fiberglass, steel or cast iron tub.
We provide a variety of services, including Indianapolis bathtub resurfacing, tile, and countertop resurfacing for the Central Indiana area. Indiana Resurfacing has been resurfacing porcelain, ceramic tile, & fiberglass since 2000. We make it possible to give your entire bathroom a "facelift', at a fraction of the cost of remodeling. We are known for offering the best in bathtub refinishing and reglazing in all of Indiana. Check out our gallery with before and after pics and let us show you how your old tub can look brand new for a fraction of the cost.
Have questions? Give us a call today. We can usually offer an estimate over the phone to resurface (refinish, reglaze) bathtubs and/or the tiles over the bathtub.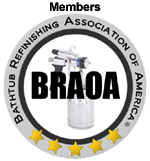 [email protected]
Feel free to send pictures of your project and we can call or email you a pricing quote.
We may service your area for a trip charge. We service all of Indianapolis and the Metro Area. We also service central Indiana for a modest travel charge.