Tired of Your Old, Worn, Stained and Color-Dated Bathtub and Tile?
To tear out and replace the average bathtub could cost $3,000 or more. It would require a plumber, tile & grout specialist, flooring Installer, carpenter, as well as purchasing a new tub. Then, how do you get the old one through the door and the new one in?
The average bathtub can be refinished for a very small fraction of remodeling costs, giving a like new appearance. Tile can be resurfaced as well. You can pick nearly any color for them to be resurfaced in.
REFINISHING MAKES SENSE!
Whether it's residential or the commercial market, such as flipping homes or rentals, you can enjoy the savings and convenience of an inexpensive Indianapolis bathroom remodeler.
Refinishing not only saves you a tremendous amount of money, most job can be completed the same day, as everything stays in place. You could be using your beautiful tub and tile the very next day. The new finish is extremely durable, easy to clean, and can be applied in any color.
General Description of Our Process
Indiana Resurfacing has been resurfacing porcelain, ceramic tile, & fiberglass since 2012. We make it possible to give your entire bathroom a "facelift', at a fraction of the cost of remodeling. We utilize a four step process. The coatings used are the toughest & safest refinishing products available anywhere. Our product & workmanship are so good that we feel confident in providing you with lifetime coverage for as long as you live in your home. Using a tried-and-true four-step process, the skilled team of professionals at Indiana Resurfacing completes most refinishing jobs in a single day. The company ensures that the tub is properly cleaned and prepped and is resurfaced with an adhesive two-coast base system followed by two coats of high-gloss finish. Customers can choose from a wide array of colors, including custom colors. Indiana Resurfacing is an Indianapolis bathroom remodeler that can refinish bathtubs that have been previously resurfaced as well. Special non-slip finishes are also available.
Step 1:
We clean & prepare the surface area with a professional cleaning solution. This is applied to the Porcelain, Enamel and/or Ceramic. This cleans and removes any shine. The surface is now dull & porous and ready to receive the next step.
Step 2:
The adhesive is now applied to the surface. The adhesive is a two component coating that is catalyzed, a chemical hardening process. Once applied, water and chemicals cannot penetrate it. With this adhesive two coat base system, the glaze coat is bonded to the original surface.
Step 3:
The glaze is now applied with two coatings. Indiana Resurfacing uses the strongest coating anywhere. When finished, it looks like a brand new tub. It has a beautiful high gloss finish and shine. The work takes about 2-3 hours to resurface a typical bathtub. Afterwards the new finish should typically cure for 24 hours before its first use.
*We may service your area for a trip charge. We service all of Indianapolis and the Metro Area. We also service central Indiana for a modest travel charge.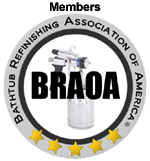 [email protected]
Feel free to send pictures of your project and we can call or email you a pricing quote.
We may service your area for a trip charge. We service all of Indianapolis and the Metro Area. We also service central Indiana for a modest travel charge.