A worn-out, cracked, stained or broken bathtub presents an Indiana homeowner with three options: refinish, disguise or replace. Indianapolis bathtub refinishing is the most affordable and least disruptive option. As one of the premier Indianapolis bathtub refinishers, Indiana Resurfacing can repair and refinish bathtubs to make them look and clean like new. With over a decade of experience, Indiana Resurfacing has the expertise to get the job done quickly and properly.
Removing and replacing a bathtub is a labor-intensive operation. The bathrooms plumbing, tiling and flooring must be disturbed to make way for the tubs removal and replacement. Disguising an unsightly bathtub with a liner is another option, but liners create air pockets beneath the tubs surface where moisture can accumulate, leading to mold, mildew and rot. Indianapolis bathtub refinishing is not only a cost-effective choice but is also the a great option that returns an existing bathtub to its beautiful near-original  state.
We at Indiana Resurfacing have been resurfacing bathtubs in Indianapolis (also called refinishing and reglazing), as well as tile and counter tops since 2012. Our owner, and sole operator, received detailed training from a master refinisher with years of experience.
We have also been converting bathtubs for easy access since 2012. This can really make life easier for seniors and handicapped. As with the hundreds of these conversions done, we can make the access look as if the tub was originally made that way! (See Gallery)
We're a family business and we want to keep it that way. We feel this gives us the best opportunity to maintain the highest level of customer service as an Indianapolis bathtub refinishing company, also specializing in tile and countertop resurfacing, and converting bathtubs for easy access.
Bathtub, Tile, & Fiberglass Resurfacing & Repair
EZ Tub Access for Seniors and Handicapped
Free Estimates*
Lifetime Warranty on Bathtubs and Tile
Countertop Resurfacing
We can usually give you an estimate over the phone to resurface (refinish, reglaze) bathtubs and/or the tile above the tub.
Indianapolis homeowners who are in need of new bathroom fixtures may be pleasantly surprised to learn that alternatives are available that will only equal a fraction of the cost of replacing old fixtures like bathtubs. Indiana resurfacing is one company that is experienced in fiberglass tub repair. Indiana Resurfacing can also complete projects for tile repairs. If a customer is looking for a company that can refinish a bathtub,  they can contact Indiana Resurfacing to complete this important project.
Indiana Resurfacing works to improve the aesthetic character and function of bathtubs through various methods. One process is to repair bathtubs. The company can complete fiberglass tub repair by repairing cracks and filling holes in the surface. The company can also complete similar projects pertaining to porcelain bathtub repair. If the paint or enamel has been chipped, Indiana Resurfacing can fill and smooth the surface. After that the tub can be resurfaced to a glossy, near original shine. Completing this type of repair service on bathtubs helps to extend the tub's lifeline and save homeowners money on the cost of replacing the tub.
Indiana Resurfacing also works on clawfoot resurfacing projects. This process helps homeowners to improve the look of worn or damaged bathtubs. The process is used to repair cracks, chips and other damage on the bathtub. While a new bathtub can easily cost $3,000, refinishing a bathtub, often costs only a fraction of this cost. Resurfacing the tub consists of a process in which the tub is cleaned out in a thorough manner. Products are used to remove mildew, mineral deposits and other materials from inside and around the tub. After repairing any noticeable cracks or chips, a special bonding agent is used to create a strong adhesive bond between the tub and the finish that is being applied to the tub. The homeowner can select a color from a variety of colors for their new-looking tub. This helps homeowners who have brown, yellow or other outdated bathtub colors easily change the look of a tub without the added expenses of replacing it. A qualified technician then applies the finish with a specialized to provide an even, fresh and clean surface. This process can often be completed within one or two days.
If a homeowner is looking for a company that can refinish a bathtub Brownsburg residents can contact Indiana Resurfacing to get a free quote on the amount and timeline of the service.
*We may service your area for a trip charge. We service all of Indianapolis and the Metro Area. We also service central Indiana for a modest travel charge.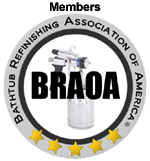 [email protected]
Feel free to send pictures of your project and we can call or email you a pricing quote.
We may service your area for a trip charge. We service all of Indianapolis and the Metro Area. We also service central Indiana for a modest travel charge.